Puppy Purchase
Your deposit of $250.00 will be applied to the purchase price of your pup. Deposits are nonrefundable after 24 hours. However, we will gladly transfer your deposit to another litter within a two-year period if the notice is given within two weeks of the "home" date for your initial pup purchase.
Email us for more information.
Our Purchase Guidelines
We welcome any questions that you may have about our dogs or contract options. Selecting a dog from us will be an affordable way to own a great dog that you will have for many years of companionship. With that, we will provide:
 AKC registration papers (which are important to you and the breed) proving the:

Purebred German Shepherd dog status of your new companion.
Registered names and numbers of your companion and its parents.
Provable genealogy, showing concern for the preservation of purebred breeds for the future generations of humans to enjoy and breed.
DNA- and breed-specific qualities for temperament, type, looks, movement, workability, and health.

Six-week pet insurance at no charges for purchases under 22 weeks of age. This includes:

$1,500 to cover veterinary fees for illness and accidents (some restrictions) provided through the AKC if you qualify based on your location. Please consult the AKC site.
$150 for advertising and reward if your pup is lost or stolen.
Free certifications, as well as the titling paperwork for ancestors. These documents will be proudly presented as a testament to our dedication to this incredible breed and its preservation.
A two-week supply of NuVet vitamins to get your pup started on a healthy life.
Imodium and Albon for your pup's first few days home to help it adjust without health issues.
Full-color DVDs with five or more generations of your pup's pedigree. These DVDs will include training videos to help you learn the techniques to train your dog to perfection. We are always glad to provide DVD-upgraded videos of obedience all the way to Obedience Trial Champion (OTCH).
$250 for death benefit.
$1,150 worth of coverage at no charge to the new owners.

A puppy pack that includes:

Premium dog food kits that have food for your puppy's first few days.
A 300-page manual with a comprehensive selection of articles for all stages of your canine's life. This is to help new owners understand the dog's training, feeding, vet, and general health needs.
Three or more generational picture pedigree of your pup's family tree, complete with documents verifying OVC or OFA HD to promote a balanced immune system and help prevent disease and cancer.
A Health Record Medical Lifetime booklet.
An adjustable collar.

All pups going home will be:

Vet-checked with documentation
Dewormed with documentation
Administered with first heartworm medication
ISO-microchipped
Tattooed in accordance with the AKC and CKC
Vaccinated with at least two sets
Groomed by bathing, nail trimming, and ear cleaning
Given an adjustable puppy collar
Given a puppy starter kit with puppy food included
Home-raised with children and other animals
Introduced to crate training and house training
Raised with canine behavioral motivational social training techniques
Raised with hands-on touch therapy for better human-animal bond development
This is an example of the approach we take to making your purchase process seamless.
This is a health form that will accompany each pup that leaves our home.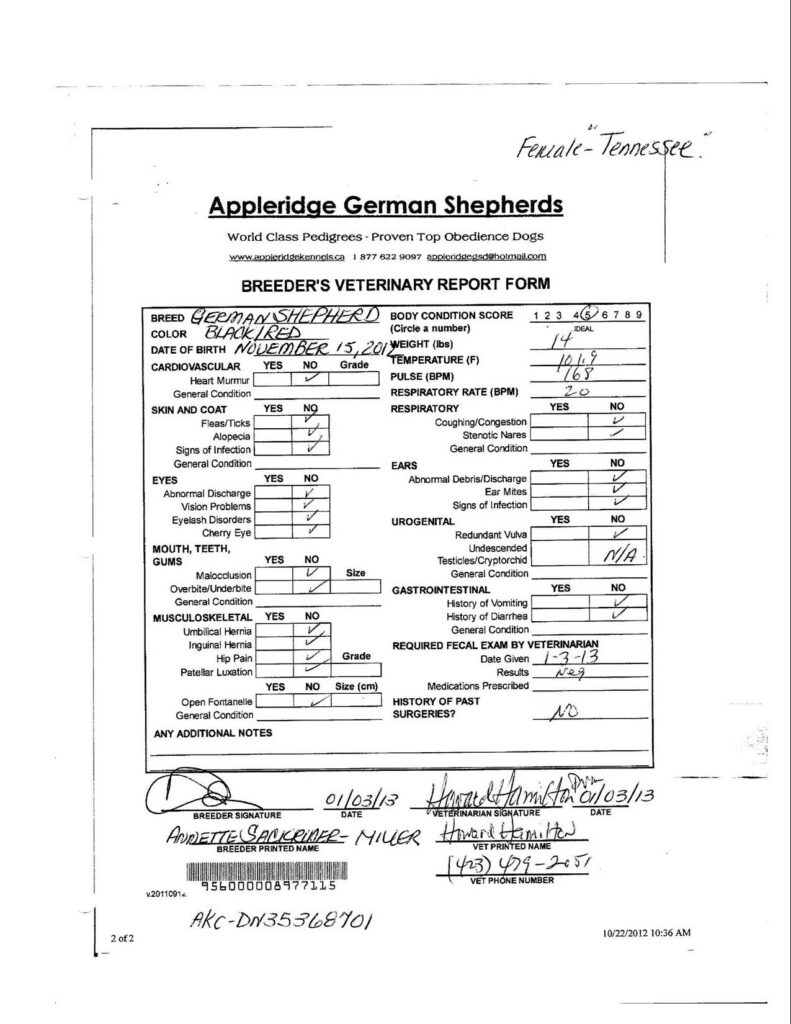 Appleridge Contract Options
USA Kinderplay Training Classes

This will include up to six months of age with B and C contracts.

USA Obedience Social Training

Class passes are available lifelong at a reduced rate.

BOTH Boarding or Board and Train

This will be available lifelong at a reduced rate.

USA Private Classes

Private consultations will be available lifelong at a reduced rate.

BOTH Behavioral Modification

This will be available lifelong at a reduced rate via email, phone, or SMS.

BOTH Advise

This will be available lifelong via email, phone, and in-person.

BOTH Re-Homing

This will be available lifelong for GSD dogs in need on a case-by-case basis.
We also offer three unique contracts for you when you inquire about our pups:
Nonbreeding
Co-Owning
Breeding Options
Payment Options
For your convenience and budget planning, we accept:
Visa
MasterCard
American Express
Debit
Discover
Western Union Transfers
PayPal
For Long-Distance Purchases
Long-distance purchases are a fact of life; we gladly provide you with references to make your purchase process delightful and successful.
With an approved questionnaire and application, you may make a deposit for your new companion through this site. You will be informed by phone or email if you can reserve one of our special puppies or dogs. Please note that a minimum deposit of $250 is required. All purchases must be approved by Annette Sackrider. If your application is not approved, your deposit will be refunded. All approved deposits are transferable to another litter within a two-year period if a litter does not produce a suitable matching pup for you or if your situation changes, requiring the process to be delayed.
For Deposits Only
Please forward us your preferred litter choice list, along with the preferred sex, your name, address, and phone numbers so your application and deposit can be matched.
We require a $350 shipping fee, plus crate, in North America by plane to most international airports by United Pet Safe Program.
Thank you.
Daughter of Logic and Shockwave
OFA: Hips – Good, Elbows – Normal, DM – NN by Parentage, Thyroid –
Normal as per Tests
Titles: ATT, FDC, CGC, CGCA, CGCU